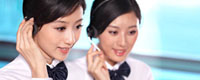 Name: Serene
E-mail: innhom@hotmail.com


Product name : 120 Colors Gel Pens Set innhom Gel Pen

Product No. : 20171114162058

Price : 16.99$
Details:
120 Assorted Colors Gel Pen: Clear and vibrant colors including Glitter, Metallic, Pastel, Neon, Swirl and Standard colors. Colors include white, brown, blue, black, red, silver, gold, purple, yellow, orange, green, pink, etc.

Flow Free and Dry Quickly: Super fine ballpoint tip, no leaking or clogged. Smooth, consistent and long lasting ink flow. No issue with smearing, written on paper without bleeding through. Wash off skin with ease.

Various Uses: 2 nib sizes- 0.8mm and 1.0mm which make the gel pen perfect for black paper, for coloring in adult coloring books, crafting, doodling, scrapbooking, hand-made cards, photo albums, journals and study notes.

Convenient Case for Storage: 10 plastic trays that can pull out, 12 gel pens in each tray. Each pen has its spot to keep your pen neatly. Easy to choose the color you want.

3 Year Warranty: Non-toxic and acid free, ink MSDS certification. Great gift for children, teens and adults.