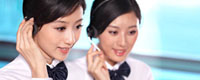 Name: Serene
E-mail: innhom@hotmail.com


Product name : Pet Grooming Glove For Dogs and Cats

Product No. : 20171114163137

Price : 8.99$
Details:
Perfect Design: Bilateral thumb openings design, fit BOTH left hand and right hand. Elastic band and adjustable Velcro, conveniently adjustable and suitable for any sizes of hands.

Soft and Flexible: Numerous premium soft silicone tips ensure gentle and efficient massage and grooming easily without pain or hurting their skin.

Premium Quality: Durable materials, waterproof, machine washable and dry fast. Free from any materials which could cause skin damage.

Multifunction: Bathe your pets, perfect cleanse. Provide your pets with a comfortable massage. Clean up the loose fur and dirt from your pets. Remove the falling fur from your furniture easily. Promote blood circulation and metabolism, relieve fatigue for your pets.

Easy to Clean: Dry or wet, both are unbelievably easy. Just remove the layer of fur that builds up around the rubber bristles or use a bit of soapy water to eliminate static and then rinse the tool clean and lay it out to let it dry.